What is the Purpose of the Bill?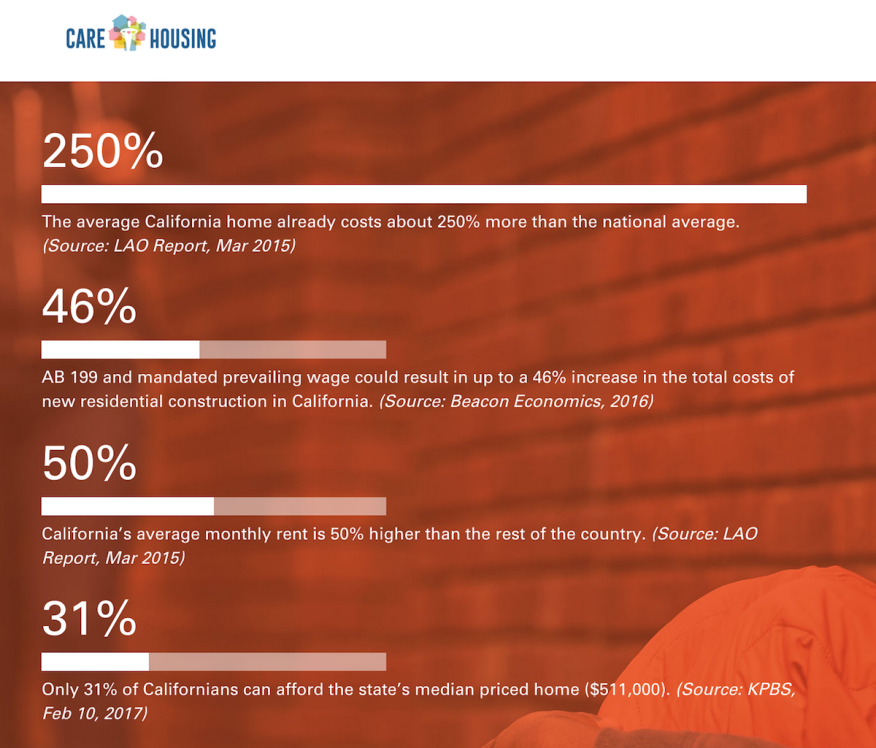 AB 199 is a bill by Assemblymember Chu, and labor union group, California Building and Construction Trades Council.  Ultimately, AB 199 could overturn the current law and mandate higher labor and housing costs on new apartments and housing in California.
While the authors of the legislation defend that AB 199 applies only to projects that use public money, the Building Industry Association is spreading awareness among the home building community that this bill is not as innocent as it may seem.  Ultimately, this is a flawed plan that could severely harm the most vulnerable in California and will directly impact the construction and home building industries by leading to increased construction costs for private houses, condos and apartments.
Did You Know? California's homeownership rate is 49th of all 50 states and is at the lowest level since 1940.
The San Diego Union-Tribune recently quoted Assembly member Chu explaining, "Our prevailing wage laws were established to provide equity, ensuring construction workers are compensated fairly on projects paid for fully or in-part by public money,".  However, the San Diego Building Industry Association says AB 199 is purposely ambiguous and appears to be a play by the unions to extend prevailing wages to all residential development in the state, from a house with two bedrooms to a condo skyscraper.
Borre Winckel, chief executive of the San Diego Building Industry Association, flew to Sacramento in late March to discuss the bill with lawmakers because he interprets it to mean any housing project in the state would fall under prevailing wage requirements.  "We are going to aggressively campaign against its defeat," Winckel warns, "We are gravely alarmed".
4 Potential Effects of AB 199 on the Construction Industry:
Higher New Home Costs – As California faces high housing costs and shortages, AB 199 could potentially add as much as 40-50 per
Reduces Affordable Housing – Could result in up to a 46% increase in the total costs of new residential construction in California.
Increases Risk of Homelessness – Could put over one million low-income Californians who receive SSI/SSP grants at greater risk of becoming homeless
Impacts Low Income Families – When housing costs rise, families are forced to shift their spending away from basic needs like food and health care.
What Can the Construction Industry Do?
Sign the NO on AB 199 Petition.  Share and Encourage your family members and colleagues to sign the petition.
Track the status of the petition at CARE About Housing.
This information has been researched and provided by the Labor Compliance Divison at Murow Development Consultants.