There are several essential elements of a project with a public financing component – but none more important than the mandate of having to:
adhere to public bidding requirements (to reinforce local competition and obtain competitive pricing),

paying prevailing wages (evidence that all were paid properly), and

maintaining accurate accounting records (to articulate a clean and accurate audit of payment correspondence to perfect the cost validation and reimbursement effort).
But, what else is needed to make your reimbursement project successful?
In our experience, there are eight key processes that need to be executed throughout the duration of a project. These processes result in generating "back-up" or reference documentation to be used as evidence that requirements of the public financing program have been addressed.
These items can vary by project or jurisdiction and may not always be a requirement of a reconciliation package, but suggested material to help expedite the cost validation effort. Therefore, it is a "best practice" initiative to review the project's Acquisition Agreement or Agreement for any and all requirements in order to perfect on the refund/reimbursement of eligible costs.
The Eight Key Processes & Why They Are Necessary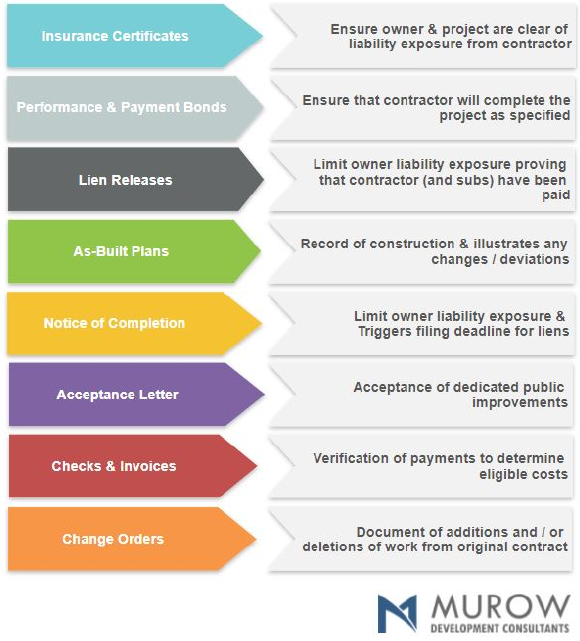 By staying on top of these processes and maintaining strong documentation control throughout your projects – you'll be able to focus your efforts on the cost validation process instead of trying to play catch-up.
Blog Written By: Christian Gagne, Director of Credit & Reimbursements
Comments or questions? Please feel free to contact Christian at cgagne@murowdc.com