For any large electric service request (and typically for most commercial and large residential projects) Los Angeles Department of Water and Power ("LADWP") requires a transformer to be placed inside private property.  Such transformer can be placed on either:
a transformer pad or
in a subterranean vault
with each setting having specific clearance requirements and regulations. Additionally, the electrical demand for each will vary due to sizes as well as the quantity of vaults and pads.
For extremely large services, LADWP requires their 34.5Kv circuit to provide power to the selected site. Additionally, LADWP's switch equipment (and transformer) is required to be installed on the private property.  It is important to note that the switch may be installed on either a new pole or on a pad.  If a switch is required, the option for a vault is no longer such an alternative and leaving ones only option to a transformer pad installation.
It has long been conventional for a switch pad to not require the same clearances as for a transformer pad[1] for the following reasons:
switch pads are not filled with oil
switch pads have the same blast radius as a transformer to account for the event of an explosion (NOTE: The most critical clearances – in the event of an explosion – typically are: windows, doors, egress paths and vents).
Through the assistance of LADWP Service Planning Department Murow Development Consultants recently discover an updated specification that identifies a new standard1 for ANY pad-mounted equipment (transformer AND switch).  Today, both transformer and switch pads follow the same clearances requirements.  It is important to note this standard has not yet been updated in the LADWP Guidebook.
What does this means to you and your project in LADWP's jurisdiction:
Any project that does not conform to the new LADWP standard, may experiences clearance troubling issues during construction – issues that can cause costly delays to one's project.  If clearances and safety concerns aren't properly address, LADWP will not energize the transformer until such are resolved.   To avoid last minute architectural revisions – which can cause unanticipated (and lengthy) delays and costs – please make sure your LADWP Service Planning Engineer and dry utility consultant are aware of this new standard / rule.  Such standard is attached and please reach out to Murow Development Consultants Dry Utility Director (Chris Rad) for further information at 949.988.3277 or at crad@murowdc.com
[1] LADWP provides only their standard on transformer pad clearances.
NEW STANDARD
 OLD STANDARD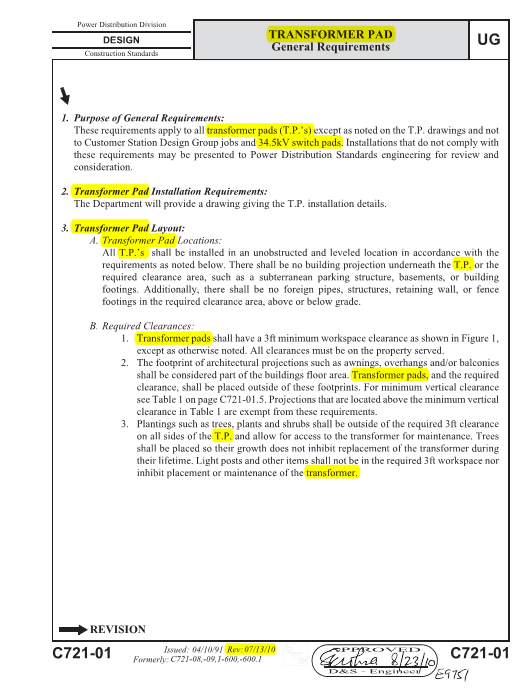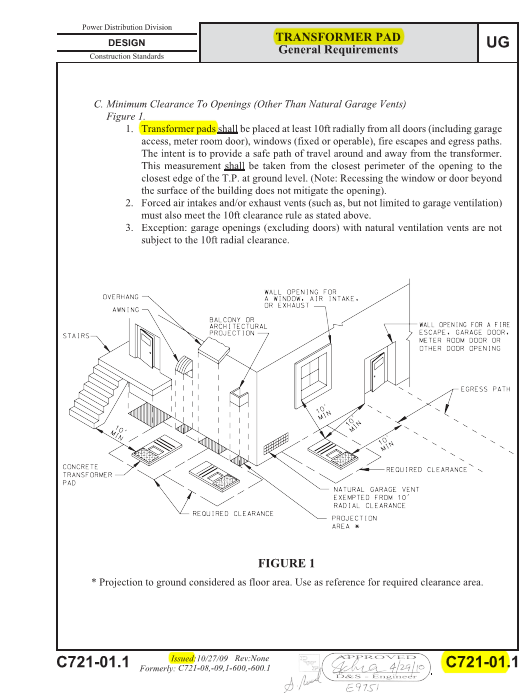 Blog Written By: Chris Rad, Director of Dry Utilities
Comments or questions? Please feel free to contact Chris at 949.988.3277 or at crad@murowdc.com